WPCasa Review 2018 | Exclusive 20% Off Coupon Code
WPCasa Exclusive Coupon Code
WPCasa is the one-stop solution for getting a full-blown real estate website with beautiful design and features. This comes with options like filters, map view, search and many flexible customizing options. Grab the full package and explore the plugin and themes. Now get an additional discount of 20% on WPCasa using our exclusive coupon code.
Click the below LINK to get 20% Extra Discount
WPCASA – Make an Awesome Real Estate Website
About WPCasa
Online business marketing is the key to a flourishing business in this digital world even if it's just about buying or selling a house for you. An easy to use website with the most advanced features that could list detailed information on your website will attract buyers and even could get you a great deal. To make it simple, ThemeShift – a WordPress development company created a product named 'WPCasa', deriving its name from the Spanish word "Casa" meaning 'Home'. This new WP plugin has given a complete solution for creating a first-class real estate website that manages property listing superbly. It's a flexible WordPress plugin cum marketplace that provides so many themes and add-ons to create a professional looking website specifically for real estate that can be managed and used with ease.
WPCasa Plugin – Great Features
WPCasa offers plenty of great features that could give you a stylish as well as powerful, user-friendly design for your real estate website. Some special features that any child theme has been made only to cover real estate niche like the home solution plugin. For example, a printable version is always available for each and every listing of the property. It's built on the most popular CMS on the internet that is WordPress and thus offers all familiar and easy to use interfaces that the WordPress framework offers. All the products, themes or add-ons available with WPCasa are created with a high standard HTML structure and microformats, keeping in mind the importance of SEO. As the real estate industry is an evergreen business with a focus on international buyers and sellers, so the entire WPCasa framework and themes are localized and ready with translations. Some of the special features that are designed keeping in mind the real estate industry niche are:
Listing Editor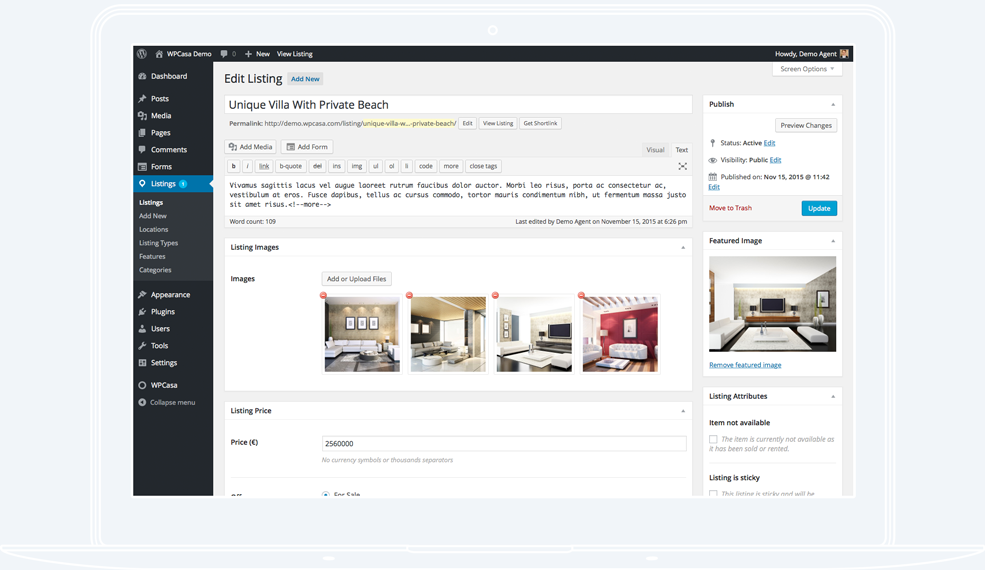 This feature allows you to add extensive property details, various images gallery and all location information that is the most basic requirement a client is looking for before making a deal for a property.
Advance property search

Some clients need detailing search beforehand so with the advance filter they will be able to find any listing details with keywords in seconds and trust me that's a great satisfaction and overwhelming experience for any client not to lose interest in the website.
Admin Property management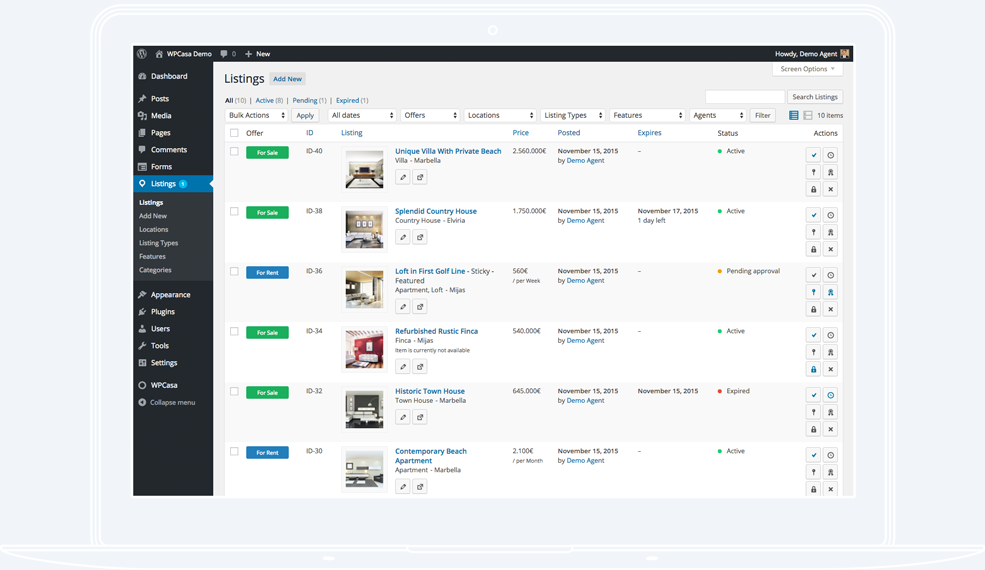 with so many features the WPCasa also gives a well-organized dashboard for the administrator in the backend to manage great numbers of listing with any bulk actions and advanced filters.
WPCasa Add-Ons
Apart from these three special features that I came through, WPCasa add-ons make the website more developer friendly by having well-documented readable codes that make it easy for developers to create a beautiful site using so many actions, filters, and templates. Right now the website offers almost around 20 add-ons that must be looked upon in detail on their website. Below are some of the powerful add-ons
| | |
| --- | --- |
| Add-On Name | Price |
| WPCasa Advanced Search | FREE |
| WPCasa All Import | FREE |
| WPCasa Admin Map UI | $20.53 – $106.97 |
| WPCasa Listing PDF | $20.53 – $106.97 |
| WPCasa Contact Form 7 | FREE |
| WPCasa Pricing Tables | FREE |
| WPCasa Polylang | FREE |
| WPCasa Listing Labels | $20.53 – $106.97 |
| WPCasa Gravity Forms | FREE |
| WPCasa Favorites | $20.53 – $106.97 |
| WPCasa Featured Listings | $20.53 – $106.97 |
| WPCasa Ninja Forms | FREE |
| WPCasa Dashboard | $31.33 – $139.38 |
| WPCasa Listing Map | FREE |
| WPCasa Expire Listing | $20.53 – $106.97 |
| WPCasa Currency Converter | $20.53 – $106.97 |
| WPCasa List Agents | FREE |
WPCasa Admin Map UI
A premium add-on but has covered a very important aspect of property location listing by just a drag and drop or click on the map. By activating this extension, an advance map setting will be available in the listing location meta box in your WordPress admin, and so every property page in front end will have a map displayed on it.
WPCasa expire listing
This is a great add-on if you wish to deal a paid listing as it helps to disable a listing after a certain period. I feel it's very useful or rent property listing.
WPCasa favorites
This will help users to save their options and choices for future reference. It's again a premium extension.
WPCasa Polylang
A free add-on that helps to list the property information in multiple languages.
WPCasa Pricing Tables
Pricing tables display a printable fancy table with a set of custom meta boxes where you can show pricing table that displays different plans and with the help of a shortcode can be displayed on WPCasa website. This is available for free.
These free and premium add-ons will give more functionality to your website and can be used if you wish to extend the engine with more advanced features. And for web developers who specifically work on websites related to real estate vertical, we would recommend the 'WPCasa Developer' package that gives access to all of their themes, extension to create a unique looking website for each client.
WPCasa is full of some beautiful real estate themes
WPCasa offers themes for both WordPress newbies as well as professional developers to create beautiful real estate websites. All of their themes turn the website into a stylish and modern end product with all user-friendly search features. The website offers a total of 9 free and premium themes that are all designed keeping in mind the requirements of a real estate business. All of the themes have a lot of inbuilt flexibility with layout settings, drag and drop widgets, custom property edit screens where even a beginner will be able to create a fully functional powerful website without having any kind of coding skills. All the themes have detailed search function and are so well designed making it easy for buyers to get exactly what they're looking for. These 9 real estate framework themes are all fully responsive. For example WPCasa Bahia, a premium theme that offers a great design with lots of handy tools and useful widgets whereas Uptown is a simple and clean personal blog theme available for free, which can be used to create a fully loaded real estate website with lots of additional information.
WPCasa offers an affordable Pricing & Package
WPCasa themes are worth the quality and still manage to offer a very affordable price listing specially for developers. They offer two packages fulfilling different needs –
The Standard Package is for €149 that gives one year access to all of their new as well as currently listed themes. Also, includes one year of theme support.
The more useful one is their Developer package in €199 not much higher than the standard that gives a year access but also includes access to their add-on features and one year of premium support. Their individual theme cost is €49, and if you want with extra add-ons then the same theme is €69.
Apart from this, their themes can be used for unlimited sites, but the updates are available for a minimum of 20 sites. They also have a custom license that can be purchased by contacting their support theme that will give automatic updates to more than 20 domains if needed.
WPCasa – Future Plans & Releases
The one thing the makes people look for other frameworks or products when it comes to real estate related sites is that WPCasa doesn't have any feature for "inbuilt monetization". But after having an exclusive discussion with the WPCasa team itself, and this is what we got from them.
"We're currently working on some solutions for that. Currently, the WPCasa Dashboard add-ons enable to add properties from the frontend. Admins can take money for that. We will extend on this in the near future. And further down we will publish soon WPCasa Bookings (around this year) which will enable everyone who uses WPCasa to earn money through Bookings – if this is room booking or apartment bookings. With that we will start with PayPal and Stripe Payments, further Payment Gateways will then follow"
Final Thoughts about WPCasa
WPCasa is one of the best options out there for any kind of real-estate website solution that will make any property business easy to market and grow. The basic plugin is free to use and other special features, themes, and add-ons are not overly priced but come with great support and documentation. Everything is great, but just one thing that makes it different from its competitors like estate engine is that it doesn't have inbuilt monetization feature yet, but that doesn't make it a second choice for any real estate professional. And as soon as they release the new WPCasa Bookings add-on, I am sure it is going to make it easy for the users to choose WPCasa as the first option for any real estate website. Their collection of niche real estate themes and add-ons with such pocket-friendly pricing is extremely hard to beat.
Summary
WPCasa is a full blown real estate wordpress framework which enables users to create own professional real estate websites and manage property listings with ease.